Ourworld is a virtual world that contains many games and activities. It is aimed at teen and tween demographic.
Gameplay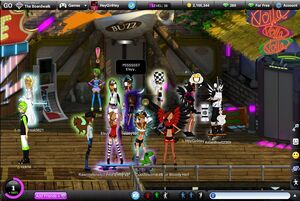 Ourworld combines an online virtual world with a range of casual gaming activities. Each player if it sign ups has a avatar and a condo.
An in-game currency, Flow can be earned by talking, dancing, eating, drinking and playing games. Flow can be exchanged for experience points and coins. It also has a in-game exclusive currency named Gems, which you can get it by buying with real money or by completing offers.
Players can talk with other players, sending gifts, sending friend requests, create groups, send and receive mail, participate in contests and give "hearts".
There are some special items in Ourworld, including tattoos, mystery boxes, sprites, inventories, residency passes, potions, wings, and ears/horns. Before 2012, the only level cap was 100, later in 2012, it is 150, and much later, 200.
Gallery